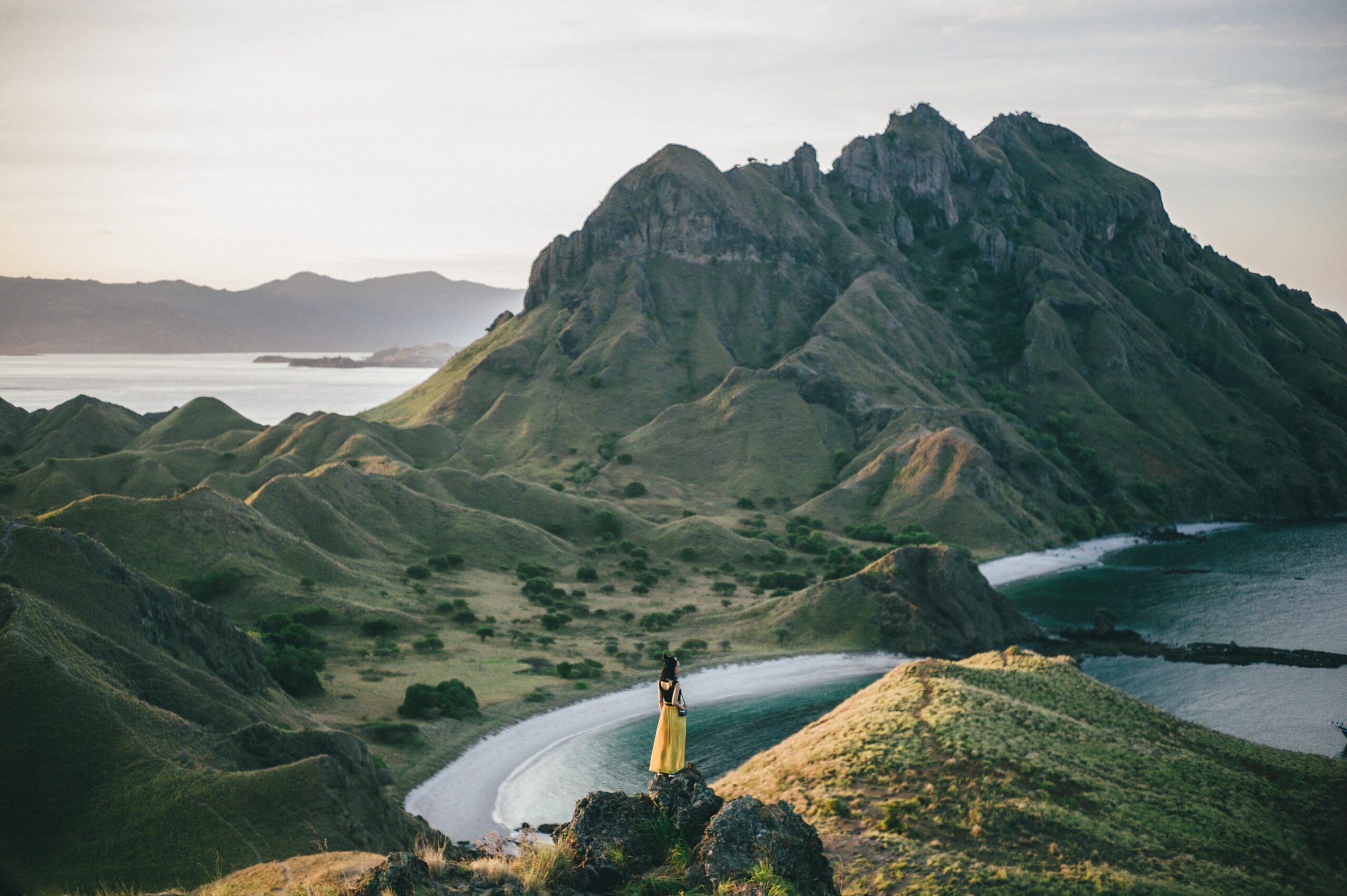 Komodo Boat Trip: Lombok – Flores
Before my first trip to Indonesia, I had no idea about Komodo Island or the Komodo boat trip which goes from Lombok to Flores Island. The boat trip takes you on a lifetime adventure, stopping at many unbelievably beautiful islands and beaches and showing you the diversity of Indonesia. Yes, I did learn about Komodo dragons and Indonesia at the elementary school, but let's face it, that was quite a long time ago. And at that time I had no idea, that one day, I could actually end up on a boat trip to Komodo Island and exploring inland of Flores Island. So as you can imagine, the highlights of this Komodo boat trip were the biggest lizard on this planet, the Komodo dragons, and the stunning nature and beyond amazing underwater life. I always recommend the Komodo boat trip adventure to anyone who is planning a trip to Bali.
Komodo Boat Trips starts in Lombok, which is nearby Bali island, going around Sumbawa Islands towards Komodo and Rinca Islands where living Komodo dragons can be spotted and ending in Labuan Bajo, Flores from where you can fly back to Bali or Java. Option for doing the Komodo Boat Trip the other way around – Flores to Lombok – is also possible.
The boat trip takes you on a lifetime adventure, stopping at many unbelievably beautiful islands and beaches and showing you the diversity of Indonesia.
Komodo Boat Trip: Lombok – Flores
While traveling through Bali, Lembongan, Gili's, and Lombok with my best friend, I couldn't help to notice that they were offering everywhere 4 days 3 nights Komodo boat trip. I was tempted to do it but I was scared of being seasick. Yup, unfortunately, I'm one of those whose stomach goes easily crazy :-(.
Talking with other travelers who already took this trip, everyone said it's amazing but after some research online I found out that a couple of boats actually sank. So that made me worry… freaking out about feeling seasick and boat sinking doesn't sound like an ideal trip to do. (And trust me, I and my friend, had our own scary experience when our over-packed boat almost sank down when going from Gili Trawangan to Gili Air).  So my friend did the call, and decided to climb the Rinjani Volcano in Lombok instead, which was an amazing experience!!
After a half year of traveling South East Asia, I've returned to Indonesia and was determined to put my fears aside and take this so-called "awesome" boat trip. My original plan was going Labuan Bajo- Lombok ( most people go from Lombok – Labuan Bajo), because I wanted to meet in Lombok with a couple, I met in Laos.
But exploring Flores and changing my plans by heading to Sulawesi instead of Lombok, I ended up skipping sailing via Sumbava (there's not much to see anyway. It's the part you do a lot of sailing and part when your stomach can start screaming) and I did a 2 day trip around Labuan Bajo.
1. Highlights of this trip:
Get ready to do nothing for a couple of days.. just chilling, reading a book, getting to know strangers who end up on the boat with you, and simply be wowed with beautiful scenery, which you will be exploring or passing by…
 Komodo Island
One of the highlights of this trip is to visit Komodo Island where you can spot the largest living lizards – Komodo Dragons. They can be up to 3-4m long and there are around 3000 Komodo dragons living on the island.
When we got to Komodo Entrance park, our captain took us to meet with rangers. We paid a fee 20 000RPH and could choose one of the 3 routes to walk around the island. We all were in a bit lazy mode from sailing all day so we chose the shortest one via jungle.
As soon as we started to walk we saw a few dragons lying near the village kitchen. I'm positive the locals leave the food for dragons around so they can make sure the tourists can spot some in case they don't see them while doing the track.
They were lying in a bunch, enjoying the sun, looking for predators actually pretty peacefully lol.
We were lucky enough, we saw few Komodo dragons in the jungle and 2 baby ones. We also saw many deer which Komodo dragons hunt for food. Few were escaping the jungle and resting on the beach.
If Komodo attack doesn't kill its prey right away, their saliva has a bacteria which creates blood infection in the attacked animal and causes death, usually within a week. Komodo dragons also have a special organ for smelling. It helps them to locate this dead animal and finally get their "lunch" eaten.
But no worries!! This walk isn't dangerous. All rangers know the dragons well and they keep everyone safe from possible attacks by these predators. If you are lucky, you get the same ranger as I did, with a pretty good set of photography skills :-).
Pulau Kalong (Bat Island)
There is a mangrove forest on Pulau Kalong (Bat Island) where thousands of fruit bats sleep during the day. We got to this island before sunset. I'm not very into bats but it was a pretty great place to get on top of our boat, drink some beer with my fellow travelers while watching these huge bats waking up and flying around while the sun was going down.
Fisherman Village
It's a small village with a few habitats, mostly fisherman near Kalong Island. It's also a dock spot for most of the boats with tourists and this is where we stayed for a night.
For those who don't want to spend a night on the boat anymore, I have some good news!! Some of the families offer a very simple room to stay in. You have to pay for it and you have to lower your standards… I mean really lower your standards. But it might be good options for those who need a break from sleeping on a boat.
To our surprise, all the crew members from the boats which docked in this village took out their speakers and stereos and were ready to start a party. Our boat, made of people in the 30's weren't that much excited so we couldn't notice a disappointment from our captain when asking him to lower down the cheesy music. But for those who are up for some action, you can hop in between the boats, mingle, and have fun.
Pink Beach
After watching the fisherman village wake up and after eating our delicious breakfast (banana pancakes with tons of fresh fruit & coffee), we took off to see a small hidden beach between Island Komodo and Rinca. The sand here, has a slight pink tone to it, due to broken up coral that is mixed through it. My picture doesn't do justice but in reality, you could see that the sand is pink. Water had a perfect temperature and it's a great spot to just relax or do some snorkeling. There is also a short track you can hike and see the pink beach from above.
Padar Island
Padar island was a really nice surprise. After a short hike (grab water because you will sweat for sure), you will be rewarded with really stunning views of the surrounded islands and Padar bays. It's one of a kind place and I felt totally in love.
Mantas Point
Next stop was you can put your goggles on and hop into the water is a Manta Point. Snorkeling with these huge and graceful species is simply a breath-taking experience. Even though I was struggling with a rough sea, it was still awesome feeling swimming so close to them and sharing the ocean with them.

Kanawa Island
Our last spot was an island with a white sand beach. Another nice place to swim, snorkel and chill.
We actually had to make we stay a bit shorter due to the clouds getting darker and darker. The storm was around the corner. We hopped on the boat and were heading back to Labuan Bajo. The moment we arrived back in town, the rain started pouring. I was relieved that I didn't felt seasick and happy the nice weather lasted until we got back!

2. Getting to and from Labuan Bajo, Flores:
One way to get to or from Labuan Bajo in Flores Island is by taking a 4 day 3 night Komodo boat Trip from Lombok. Another option is to fly from or to Bali to Labuan Bajo. Make sure to sit by the window because the views are quite insane! See for yourself!
3. What's Included:
4 Day 3 Night (of 4 night if you wish) on the boat
3x times a day meal
snacks + water, tea, coffee (no alcohol, but you can bring your own)
Snorkel (no fins)
The price does not include an entrance fee to Komodo Island or Rinca Island and alcohol.
4. Is it safe:
Well, that's a good question. The trip is absolutely awesome and really worth doing but you need to make sure that everything is how it supposed to be. Meaning, before getting on the boat, check that the boat condition is ok (if something doesn't seem right, say it). Also, check that you have enough safety vests on board.
I'm not usually the type who is afraid, I'm up for any adventure but the locals in Indonesia want to make a profit no matter what, and they don't necessarily care if something happens to you or your belongings. So if you are ready to make memories with this trip (and I do recommend you do!!), then double-check that every passenger on the boat, including the crew, has its life vest and that they don't put on the boat more passengers than it can handle. If all is good, just sit back relax and enjoy.
5. When is the best time to go:
I would recommend taking this trip in a dry season, so you know that the ocean is relatively calm. Dry Season is from April – December.
6. Where can I arrange the Komodo boat trip:
You can arrange the boat trip anywhere in Bali, Gili's, Lembongan, Lombok, and Labuan Bajo travel agencies (on the street or on the beaches). The travel agencies and locals selling this boat trip are on every corner, so trust me, it's not that hard to arrange it.
The common route is direction Lombok – Labuan Bajo but you can also go the other way around Labuan Bajo – Lombok or skip traveling via Sumbawa to Lombok and just take a 2-3 day boat trip Labuan banjo – Labuan Bajo. Most attractions are near Flores Island anyway so you will not miss a much if you don't go from Lombok.
If arranging the trip elsewhere then in Labuan Bajo, the companies also provide a transfer to get you to Lombok where the starting point is.
7. Frequently asked questions:
How is sleeping on the boat?
Our boat had 2 staterooms with beds for 2 people each. One stateroom had bunk beds, one double bed. Another 2 people get a mattress and a pillow and sleep at the bow of the boat and crew sleeps on a deck, under the sky.
If your boat docks near the village, for some extra $$ you can sleep at the simple accommodation they provide over there or even sleep on the deck.
Are food and water provided?
The crew on the boat prepares 3x a day meals and day and snacks like fresh fruits and crackers. I must say the meals were really tasty and we had more than plenty but it all varies from boat to boat. They also provide water and coffee or tea but if you wanted alcohol you had to bring your own.
How many people total where on the boat?
It all depends on what company you do this trip and how big is their boat. Our boat had 3 crew members (captain, his helper, and chef), and 6 travelers.
Which company to buy the trip with?
Frankly, all agencies are the same, so go with the one, which doesn't allow many people on the boat and gives you the best deal.
Is this trip for kids?
I met a few travelers who took their kids on this trip and they enjoyed it. I would say, it all depends on what kind of travelers you and your family are and how your kid is. If you need luxury or your kid is hyperactive, I think it's not an ideal trip for your family. If you don't mind sharing a small boat with other people, who might like to have a good time, and simply you are open for an adventure, you might have a pretty unforgettable experience.
8. Summary:
Even though I had my doubts about taking this trip, I must say it was one of the best things I did in Indonesia. I highly recommend this adventure to everyone planning a vacation in Bali. Bali is great, but you wanna explore beyond Bali. The rest of Indonesia has so much to offer that it would be a pity flying around the globe to only see one island!
Go and make your own memories!