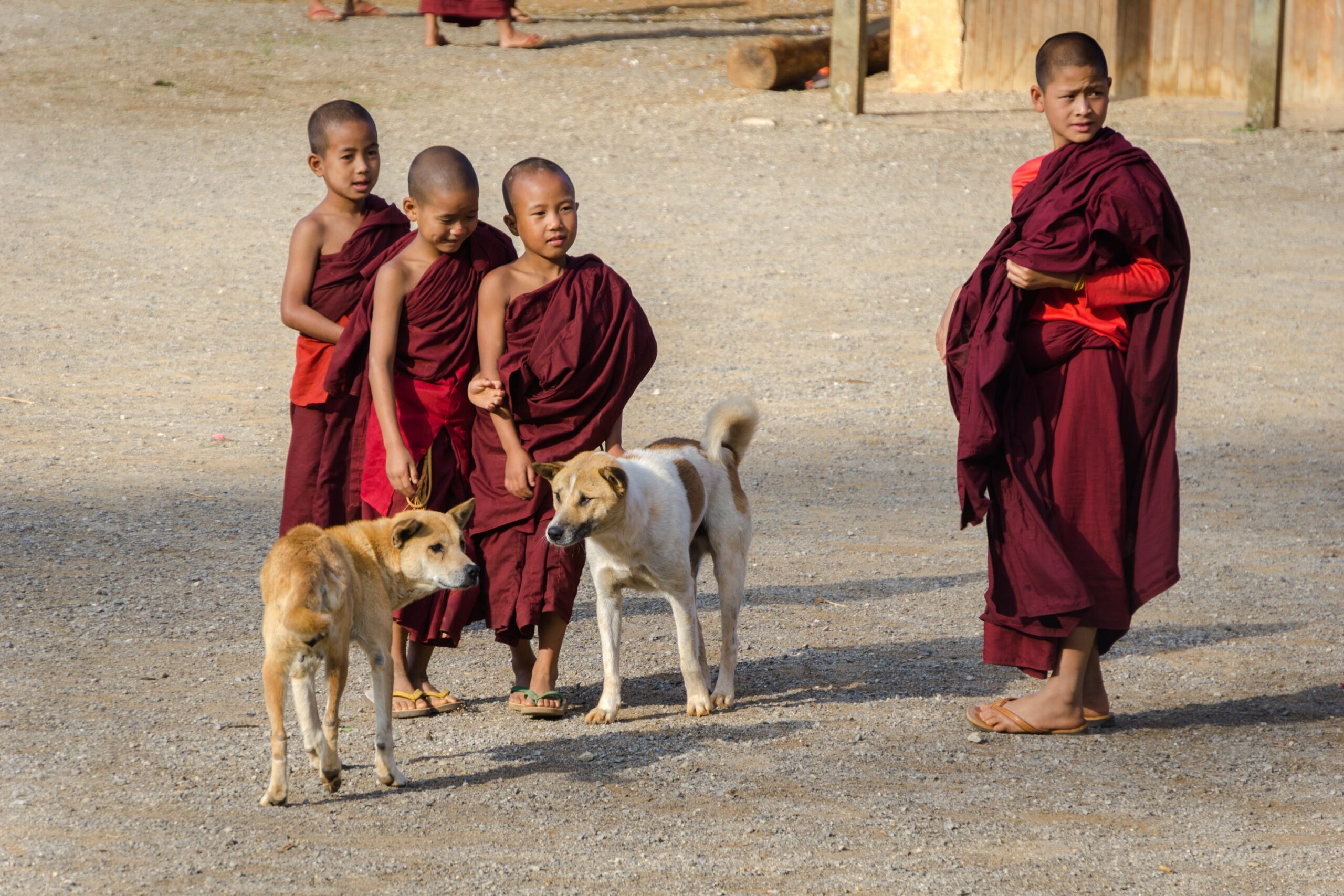 10 highlights you shouldn't miss in Laos
Planning a vacation in South-East Asia? Consider exploring Laos! Yes, you read it right. Laos. A country, which is least visited in Southeast Asia, yet a country which has so much to offer. I'm guessing that you ended up on this blog, because you don't know much about Laos and actually are not sure what to visit. Therefore I prepared the 10 highlights you shouldn't miss in Laos for inspirations to discover this amazing part of the world.
It is a land of mountains, monks, Mekong river, last few living Laos river dolphins, and the most beautiful waterfalls you would ever see! And let me not to forget mentioning zip lining adventure, sleeping in the tree houses and river tubing which your Laos bucket list might scream for! Hopefully, this post can help you say YES to this awesome country. And when you decided to go over there and discover the hidden gems, I want to know all about it!!
It is a land of mountains, monks, Mekong river, last few living Laos river dolphins, and the most beautiful waterfalls you would ever see!
10 highlights you shouldn't miss in Laos – Must see & do
1. Get your adrenaline pumping with a zip-lining adventure and then sleep in the highest treehouse in the WORLD
One of the cool things you can do in Laos is to take a zip lining trip with Gibbon Experience. You can choose from a 2 or 3-day trip and then trek and fly over the Lao Jungle, like a monkey. And trust me on this one, when you get over the initial fear, it's so much fun. Yet the best part is that you end your exciting day sleeping in the most amazing treehouse you've ever laid your eyes on. Come on, where else you could experience that?
The houses are 30-40m high above the ground, making it the highest treehouse in the world. The only way to enter this house, is, of course, via a zip line. For those who ever dreamt of sleeping in a tree, Laos is the place to go.
2.  Cruise the Mekong River on the Slow Boat
Mekong River.. yes, that's the river you remember from studying geography in high school. Yes, it was a long time ago, and by now you've probably forgotten all the facts, but allow me to refresh your memory… It's the longest river in South East Asia (4,350 km long) and it's the 7th longest river in Asia. It runs through almost all south-east Asian countries (China, Myanmar, Thailand, Laos, Cambodia, and Vietnam) and plays a very important role for all people living nearby, providing the main source of food and income.
Taking a 2-day slow boat from Huay Xai to Luang Probang (or vice versa) will allow you to experience life around the river in a rural area of Laos.
There is a reason that it's called a "slow" boat.. it really runs SLOW. So, sit back, watch the scenery and the locals pass by and just relax! (Tip to not to get bored: grab a book and make sure your phone is fully charged because you get finally a chance to listen to all your Spotify playlists).

3. Do a sunset hike to Pha Ngeun Viewpoint and see a beautiful land of Vang Vieng from above
Vang Vieng is a hidden gem in Laos, combining partying, adventuring like river tubing, and chilling. One of the cool trips you can do around here is to visit Blue Lagoon. The task is to actually find the right one since there are 3 of them here and locals tell you that's the right one so you pay them the lagoon fee. Other than that, you can explore caves hidden in a surrounded limestone mountains and go for a sunset hike to Pha Ngeun Viewpoint. If you are searching where to go on a next hike adventure check out the 3-days Mt. Rinjani volcano trek in Indonesia.

4. Explore Luang Probang – UNESCO world heritage site
Luang Probang is one of the most beautiful cities in Southeast Asia. It's a small town, easily walkable on foot. It is a place of golden temples, monks in saffron robes, and artfully preserved French colonial architecture. During the day there are many baguette & fruit shake stands at the main square. At night the square turns into a night market with food selections and a section with handmade crafts, clothes, and paintings. Therefore this charming city will make you wander around for several days and constantly shop and eat and eat and shop.
Another interesting thing is that Luang Prabang is a UNESCO World Heritage city and it is also known to be the spiritual capital of Laos. You can easily spend hours sitting at the riverbank cafes or taking a short climb to Phousi Mountain (no worry you might not climb up for hours, just 350 steep steps lol).
The view from up there is quite spectacular. The only downside is that this place is famous for its sunsets. Unfortunately, during the sunset time, it feels over there like you are standing in the middle of an overcrowded Time Square. So the trick is to get there early enough and save yourself a good spot. Otherwise, lean against a stranger's shoulder and together enjoy views of this beautiful city, peaking mountains, and Mekong River while the sun going down.
5. Swim in a most stunning waterfall you've ever seen
There's nothing more to say other than, Kuang Si Waterfall will blow your mind with its beauty!! And not just once!!
The first surprise comes when you see the first level of this waterfall with an emerald pool, calling you to jump in. (There's literally a place you can jump from lol). When you get over the excitement of swimming and jumping, and continue walking up an easy path, you will pass multiple layers of cascading waterfalls (Of course you will need to take a picture in all of them).. and finally, you will see the main waterfall, which will leave you completely speechless and stunned, because its difficult to fathom that this awesome place can even hide another waterfall of this height!
It's a really beautiful and unique place, which makes you feel like you are in a fairy tale fable. It is definitely a place that should not be missed. My advice is to go early in the morning so that you can enjoy this place without large crowds.
6. Visit Budha Park near Vientiane
Vientiane is a capital city of Laos and a good stop for a day max two. Except for exploring temples and enjoying bars and restaurants, you can visit the sculpture park called Buddha Park (Xieng Khuan). The park is located 25km from Vientiane, and it's a nice addition to otherwise a boring city. It's a fun scooter ride and if you are creative enough these unique yet bizarre-looking designs can be worth your Instagram feeds.
7. Ride a 550km loop on a scooter around Thakhek and visit the grandest cave in the country
One of the areas most tourists manage to skip, and which I think is really worth visiting, is Thakhek. You can rent a scooter in town and ride almost 550km loop. It's a great way to see the beauty of the mountainous land of Laos, visiting blue lagoon and many, many caves on the way plus stepping inside the grandest cave in the country – Conglor Cave. For a small fee, the local guides can take you on a boat tour which goes 7.5km on the river running through the cave. It's really is impressive inside.
And while cruising around, you might occasionally feel like you are in New Zealand instead of Laos. The scenery is stunning.
8. Ride a 200km Loop around waterfalls near Pakse
In addition to your Thakhek loop, you can ride The Bolaven Loop = the waterfall loop around Pakse. With the exception of waterfalls, you can visit remote villages and a coffee plantation, and get stopped by police who wants to get money out of you, get stung by a bee while being allergic and having on you any histamine pills, and had a bad fall off a scooter while having no first aid.
Well, what can I say.. way to go to make memories!   And if you are wondering, yup, I'm still alive :-).

9. Cycle and chill in Don Det aka 4000 Islands
Don Det is a unique place at the most southern point of Laos. For most travelers, it's the last stop in Laos before heading to Cambodia (or first stop heading from Cambodia).
It's not the most beautiful place you've ever seen but the place somehow makes you zoom out of reality and takes you back in time. Renting a bike and cycling around, I felt I was hurled back to my childhood.. a time when I was around 6 years old, riding a bike around my grandma's village, playing with kids, and jumping into a river on a summer day to cool down. In Don Det, you are thousands of miles away from home, yet it makes you feel like a kid again.
And it's not just that. One interesting thing to mention that in Mekong River around Don Det, you can see freshwater Irrawaddy dolphins. Unfortunately, there isn't much living here anymore. Read more here
Most travelers plan to come here for a day or two and end up staying for more than a week. There is magic in the air around here. Maybe it's because of the magic sunsets, or because of the marijuana you can smoke in some of the bars but even if you aren't into drugs, you can still sense the chill vibes and stick around more days than you initially planned.
10. Eat a delicious crunchy French baguette and sip on a fresh fruit shake
Laos country used to be under French influence. That means you meet a lot of French travelers wandering through Laos, and that's the awesome part. But the fact you can buy a tasty sandwich made out of an authentic, fresh French baguette is just mind-blowing. Trust me, after a few months in South-East Asia, living on rice and vegetables, finally seeing and tasting a real European baguette makes your mouth water and your stomach full. So full, that you might gain the kilos you have lost in previous weeks/months!