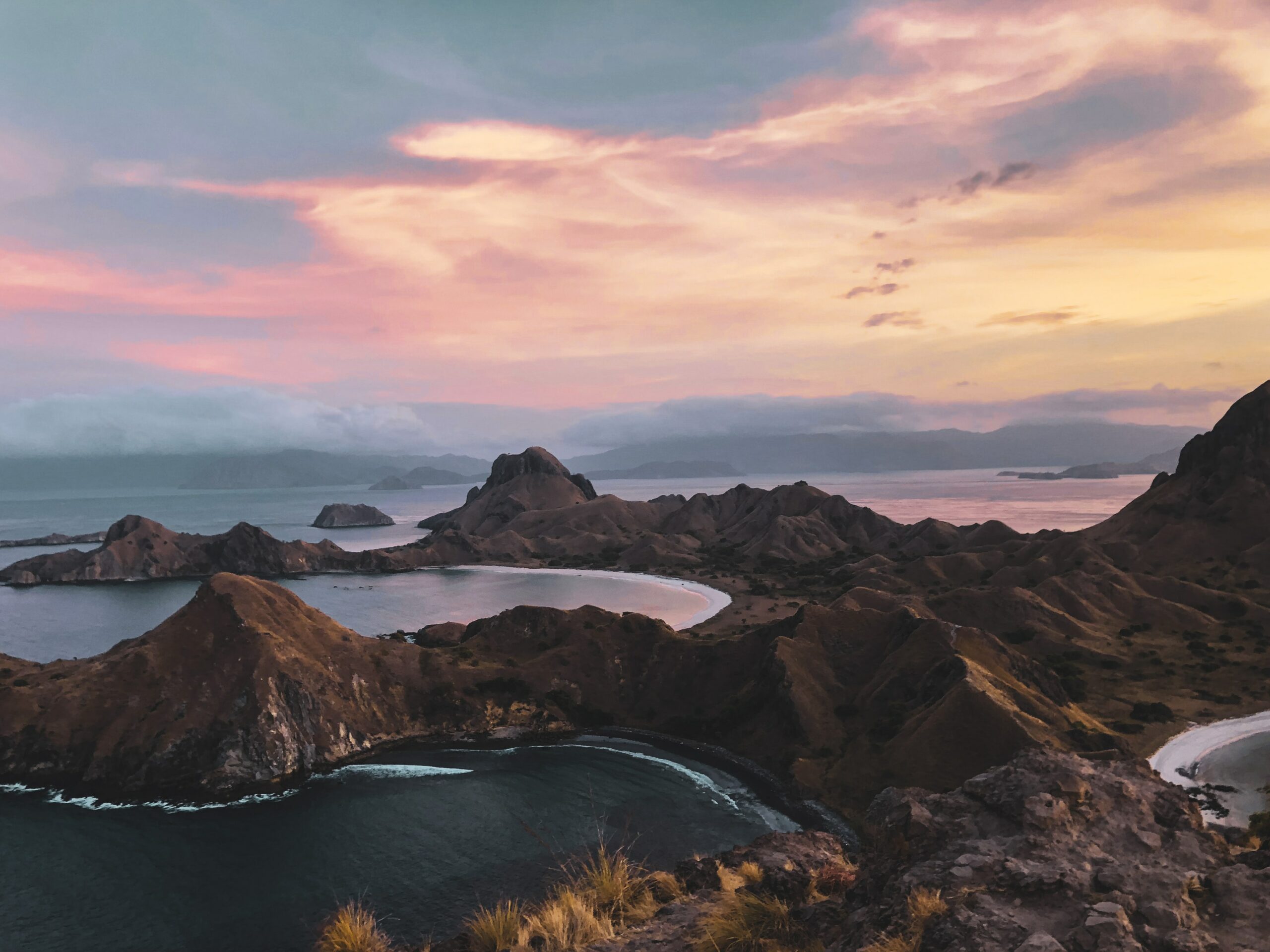 Reasons To Visit Flores Island
Are you wondering where is Flores Island? Or why to even go to Flores Island? Isn't Bali the only paradise of Indonesia everyone talks about and goes to? Well, it's not. There so much more to Indonesia than just Bali and I will tell you all 15 reasons to visit Flores Island so you can add it to your next Indonesian itinerary.
Before my first flight ever to Indonesia, I have made a joke that one day I want to see all 17 500 islands of this country. And as soon as I landed in Bali and started exploring the island, with also nearby islands Gili's, Lombok, and Lembongan, I knew I want to see more and head more east. (In traveling sense, Indonesia is quite addictive!) So I did. I arranged an awesome Komodo Boat Trip, which goes from Lombok and takes you direction Labuan Bajo in Flores. After spending more than two weeks in the beautiful Flores Island, I have put together all 15 reasons why I think Flores Island should be on your radar to not to be missed out on when visiting Indonesia.
After spending more than two weeks in the beautiful Flores Island, I have put together 15 reasons why to visit Flores Island and why it should be on your radar to not to be missed out on when visiting Indonesia.
Getting to Flores Island:
One way to get to Labuan Bajo in Flores Island is by taking a 4 day 3 night Komodo boat Trip from Lombok Island. Another option is to fly from Bali to Labuan Bajo or flying directly to the east part of the island Ende or Maumere. From Bali to Labuan Bajo is 1h flight. Make sure to sit by the window because the views are quite insane! See for yourself.
All reasons to visit Flores Island
1. See Komodo Dragons
One of the main attractions, why people go to Flores Island, is to do a Komodo boat trip and visit Komodo or Rinca Islands. These are the only islands in the world where you can spot the largest living lizards – Komodo Dragons.
The local rangers, who live on these islands, takes you on a walk through a jungle, to see the Komodo dragons living freely. With their broken English, they educate you about the dragon's life and how their saliva can kill animals or possibly humans if they don't go straight to the hospital for treatment.
But no worries!! This walk isn't dangerous. All rangers know the dragons well and they keep you safe from possible attack by these predators. If you are lucky, you get the same ranger as I did, with a pretty good set of photography skills :-).

2. Visit Padar Island
Oh, Padar. You took my breath away!!
Padar Island is an island near Flores, with steep volcanic mountains and hills set against deep bays. After a short hike up, (short but trust me, you will still sweat quite a lot), you will be rewarded with stunning views. Keep your camera ready, you won't stop clicking!
3. Visit Pink Peach
Doing a boat trip around Komodo and Rinca, there's a beach with a pinkish tone of the sand. Even though it's called Pink beach, it's not exactly pink (like pictures you might see on Instagram from Mexico, Australia, etc.), but let's call it mild pink. Because of the corals, the boats can't get to close to the beach, so have your fins and snorkel ready and pretend to be a dolphin for a while, and swim your way to step a foot on this hidden pink beach in the middle of Indonesia.

4. Go swim with Mantas at the manta point
Have you ever swum with Manta Rays? If not, visiting Flores you can get a chance to snorkel or dive with these beautiful large species. I remember a moment when I swam nearby them for the first time. I was actually a bit afraid because they are huge. But give yourself a minute or two, as I did, and you will be just vowed to share an ocean with this magnificent species.
5. Do a scuba diving course
Flores is considered one of the best location in Indonesia and in the world for scuba diving. If you aren't certified you can do your diving course here and then use some extra days to practice your skill while exploring the rich underwater world in this region. Also, doing a scuba diving course in Labuan Bajo is a bit cheaper than in Gili's.
6. Rent a scooter and drive to the beach near Labuan Bajo
Renting scooters allows you to explore areas around Labuan Bajo or the whole inland. If you have an extra couple of days in Labuan Bajo, you can ride around the stunning coastline with breath-taking views of an ocean, yachts, and surrounded islands and access the beach via resort Waecico Beach Inn.
I've to spend a couple of days there and since I was the only tourist around, I had the beach for myself :-)… just me, the sun and the ocean.. and occasional drinks or two… What can I say, I was living the so-called "beach life":-).
7. Visit Cunca Wulang Waterfall
30km away from Labuan Bajo is a hidden waterfall. To get there you will have to ride a scooter via some steep hills and hell of curvy serpentine but I guarantee you will have fun.
When you arrive, you will have to hire a local guide, (the fee is around 100 000rp). Your guide will take you through a village, rice fields, and jungle downhill to a river. It can be a tough climb here and there (about 30-45min long, slippery if it's after rain, so wear sneakers instead of flip-flops). When you finally reach the river, you can dive into green water and swim towards the canyon where you can see a hidden waterfall. For the adventurous types, you can climb the top of the canyon and jump into the water from there.
8. Visit Kelimutu – Three colored Lake
Labuan Bajo and the nearby island has a lot to offer but I highly recommend you to explore the island as well. One of the must-see spots in Flores is a 3 colored Lake – Kelimutu. The best way to see the lakes is to wake up at night, rent a scooter and drive to the beginning of the park, do a short hike and enjoy the sunrise and some interesting odors vaporizing from the lakes. Yup, that's right.. it smells like rotten eggs. The colors of the lakes are constantly changing with the increase or decrease of daylight. If you want to stay longer around here pack a breakfast and some snacks. 
9. Visit traditional Bena Village
I always love visiting traditional villages. It fascinates me that in the 21st century people continue living an extremely simple way, with no electronic devices, internet, computers, cars, or fancy villas with pools and jacuzzis.
Bena Village is a beautiful traditional village with authentic features and symbolism. Right in the center of the village are a megalithic formation, which is used to communicate with the ancestors (often by animal sacrifice). There are also two miniatures of the traditional houses, which represent female and male clan's ancestor. On top of each house, the roof is a symbol to show which family belongs to each clan.
The locals living in this village, primarily older people, are nice and smiley. You can chat with them, admire their craftsmanship (especially the famous ikat weavings) and watch them dry the macadamia nuts (both for sale). The only thing which is modern and up to date here is a young boy playing football.
10. Overnight stay at Gurusina Village and sleep with locals
Stepping into this village is like stepping back in time. This village is only accessible by foot (1,5-2h track). You can spend an overnight night stay here and sleep with the locals at their simple, yet very cute and clean houses.. on the floor of course. No luxury in this part of the world. 
Before entering their house, the owner of the house performs a welcoming "chicken ceremony". They invite you inside of the house and sacrifices a chicken, read your future from chicken insides (they predicted that our future will good and so far it is, so it had to be working!), and make you a simple yet delicious dinner – rice and chicken.
Note that their chickens are 100% organic – small & skinny! Because locals eat meat only on special occasions, they eat every part of the chicken, even bones (which are chopped into tiny pieces). Nothing is wasted around here.
How to arrange a tour around the villages and sleeping in a traditional house? When you get to Bajawa, most accommodation can arrange the tour for you or connect you with a local guide. More people can go, a better price you can negotiate. No need to plan this ahead of time. 1-day visit around a few villages near Bajawa is also possible.
11. Visit Malanage Hot Springs
Driving your scooter around Bajawa and exploring the traditional villages you can stop for your lunch break at Malanage Hot Springs. The Hot springs look more like a regular river, yet the difference is that inside is boiling hot water. Even though it's hot outside, go for a dip!
12. Visit Blue Stone Beach
Have you ever seen a bluestone beach before? Exploring Flores inland, you can stop and see this unique volcanic beach made of bluestone. Unfortunately, there are fewer and fewer stones here, because locals are taking them away and using them for decorating their houses. But if you are cruising around, come and visit before the stone completely disappears.
13. Visit Riung 17 Island Marine Park
Getting there is a bit tricky since you need to get off the main road which leads through whole Flores Island. But if you like something off the beaten track with not many tourists, that's the place to go to. Do a boat trip around different islands and their sandy beaches and enjoy the serenity.
14. Visit Rice Nets near Ruteng
For those you have never seen a vast spider net made of rice fields, Ruteng is a place to go.
The best part of visiting Flores is interaction with very friendly local people. They are always excited to see a tourist. From far away everyone will smile and wave at you and the kids will even run behind your scooter and try to catch you. They all contribute to making your trip around inland nice and memorable!
15. Enjoy Labuan Bajo sunset while eating on a freshly caught fish
Last but not least is a Labuan Bajo sunsets. The colors make you speechless. But the best way to enjoy it is to eat some freshly caught fish at the Fisherman night market in Labuan Bajo. Definitely, a place to have your dinner. Their smoked squids are the best I've ever eaten!