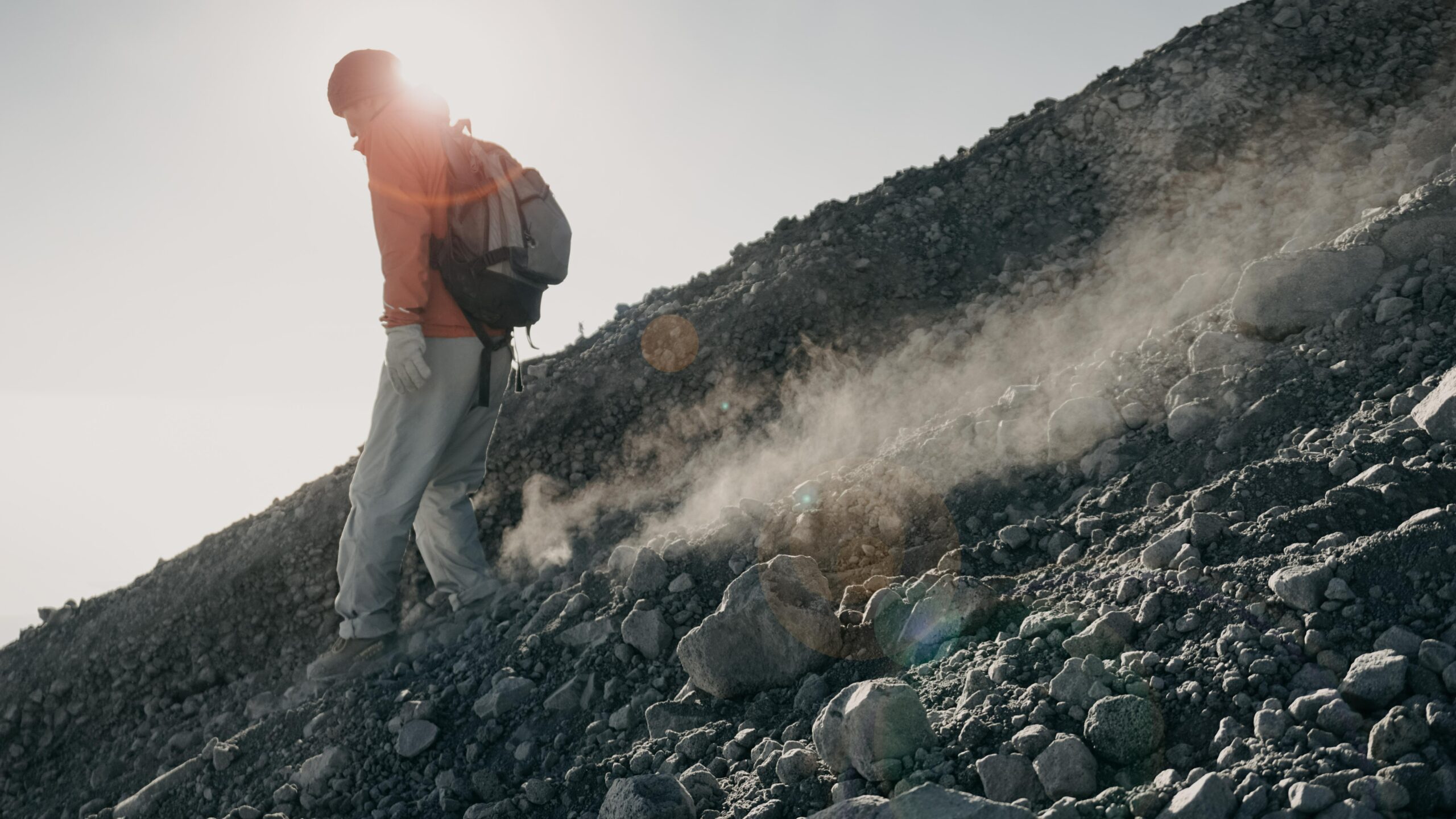 Lombok highlights: Mount Rinjani trekking
Are you ready to change from your flip flops and Indonesian beach life and head towards an awesome adventure of trekking the second highest volcano Mount Rinjani (3726m) in Lombok, Indonesia? I guarantee you, the experience of trekking Mount Rinjani will be one of the highlights of your Lombok visit and the whole Indonesian trip. The trek itself is tough, but you will be rewarded with stunning views, satisfying, and the proud feeling of conquering this killer peak and simply said, you create memories you will never forget. And isn't that a reason why we all love to travel so much?
Reading below you find out my complete review about the Mount Rinjani 3 day trek in Lombok, Indonesia.
I guarantee you, the experience of trekking Mount Rinjani will be one of the highlights of your Lombok visit and the whole Indonesian trip.
Lombok highlights Mount Rinjani trekking – Day by day Mount Rinjani trekking review:
Day Before The Trek:
If you arrive early to the Senaru village, some tour agencies not only arrange a free one-night accommodation before the hike but also a short walk to see Sendang Gile and Tiu Kelep Waterfalls.
Don't miss out on seeing two stunning and Instagram-worth waterfalls! The first one is tall and you can walk underneath it and the second one has a natural pool so if you can bear the freezing cold water, you can go for a swim.

First Day Of The Trek:
Our trekking adventure started early in the morning. We woke up around 6 am, got together with all the fellow hikers as well as with our guide and porters and we all were driven at the back of a truck to Sembulan village. After filling up a form stating our nationality and personal details, our trek began.
On our first day, we headed towards the crater rim where we would spend our first night. The beginning was very chilled with paths in the grasslands that slowly brought us higher up on the mountain. At this point, we all felt a false sense of confidence that this trek will be a piece of cake.
We stopped several times for a water break and around noon, we had a first longer break at an open field, where our porter set up lunch for us.
I want to mention that all porters have my full respect! They carry on their shoulder a bamboo stick with all the supplies for us ( food, cooking materials, water, camping gear, mattress, etc) and it weighs around 40-60kg. Most of them do this track barefoot or in flip-flops twice a week.
After Lunch
After the lunch break, the real deal started. No more gentle incline, but serious vertical torture. The trail goes straight up the side of the mountain…uuf!!
We had to hike in our first day 1500m  = 8km. Most of that elevation change takes place during the final 4 km, which takes about 4 hours, some take even longer.
There're many groups on this trek with other touring agencies ( in peak months it can get a pretty packed up here). The vibes are great. Everyone is trying to motivate everyone and you can sense the positive spirit "let's conquer this Lombok Volcano together" :-).
As our spirits were cheerful, the climb got with each step tougher and tougher. The track doesn't have any particular path, so it makes the climb really difficult. Als,o the surface is sandy and slippery. So at one point, no one was speaking, making jokes, and the only thing I could hear was everyone's heavy breathing.  You simply can't waste any of your energy on talking.
Although, the porters, who I think are superheroes, can always find a smile on their faces :-).
Because of the same pace, I, my friend, and two other travelers separated from our group. Few porters literary ran uphill to get on top before everyone else, to prepare the tents for a night and dinner. Our guide always walked last with the slowest person, making sure everyone gets on top-up safe.
Sunset
We reached the rim just before the sunset and all the effort pushing our bodies through this painful vertical ascent was forgotten (at least for a moment).
The view we got up there was absolutely magnificent!!!
With the colorful sunset, we also enjoyed a tip of Mt Agung (Volcano tip in Bali), the view of the lake Segara Anak (nestled in the vast crater), the active volcano Mount Barujari (which sits at the edge of the lake and steadily spews clouds of smoke into the air, letting you know that beneath, the earth is alive and ready to go wild at any point. The last time this volcano erupted was in Aug 2016).
After the sun went down, the temperate rapidly dropped. We put all the layers on, got cozy in our tents and after a delicious dinner, we all went off to lalaland.
First Night – Reaching the summit:
Our guide woke us up at 2 am. After a small snack = crackers, we were heading to the summit.
I was like in a slooo – mooo movie. My mind was strong, but my body was getting extremely weak, so for me, this section of the trek became physically and mentally test of my own limits.
The rocky surface didn't help either. One step up, three steps slide down, one step up, 4 steps slide down… I was cursing all the way up!! Plus it was crazy cold up here (below 0 C) !!
Somehow I managed to power through and made it to the top. Well, I won't lie, I ended around 50m below the summit. I just couldn't make it further. I was exhausted, frozen and since I was enjoying the same bird views as those 50m above me, it didn't matter to me.
Day 2:
Our group got back to our base camp around 7 am. Our porters prepared breakfast for us and after a freezing top and a hardcore climb, we all were getting some rest at the sun.
The day was just starting and we had to get down to the crater and continue climbing back up on the other side of the mountain.
Going down is never fun. Even though you think your knees are ok, trust me, they might start screaming at this point of the trek.
The descent is like a downward rock-climbing. You have to use your arms, occasionally sit down to get your feet lower and you have to watch every single step to avoid getting ankle sprain or slipping & falling. Despite all that, the scenery is just surreal!! A lake surrounded by a wall of mountains and in the middle an active volcano! Indonesia you rock!!!
When you get to the crater the active volcano is within a reach. It's a weird yet dangerously amazing feeling knowing it can burst any minute.
Lunch time
But that's not the only cool thing to do around here. You can get your one and the only shower of this trek!  Not in the lake of course!! You can go for a dip in a hot spring near the lake. They have a nice waterfall and a big pool where you can swim. It's not very refreshing since the sun is burning to our skins for 2 days already and the water is pretty hot, but it still feels really good to get clean.
Feeling refreshed, reenergized, and with our full stomach, we headed uphill again. Seeing the 80-degree angle of this mountain was just a mind-killer. Unfortunately, there was no other way than to continue going UP. This part of the trek was tough and sometimes scary, a lot of rock-climbing involved (meaning you have to use your all fours). Looking back I enjoyed this part of the trek the most. I guess because you have to stay alert and think before stepping.
One more sunset on top of the hill, overlooking the summit we reached earlier that day, one more night spent in the tent, one more dinner and we were about to go down.
Day 3:
I will never forget going downhill, the surface was sandy with small and huge rocks on the path. I and my new Dutch friend made a competition "who falls the most wins". Literally every 2-3 steps one of us felt down on our butt. We did the trek in running shoes, and as you can guess they aren't ideal because they are slippery. By the way, I was the winner of the challenge yay!
After 6-7h of the downhill walk, with breaks for snack and lunch, my knees were about to commit suicide. Next time I'll bring a parachute and simply jump down!
Despite all the hard work, getting through a finishing gate, felt AMAZING.
Days after the trek:
Be prepared to be sore for days. I literally couldn't move for 4 days!! So treat yourself and the first thing you get to your next destination, go for a massage!!
Other Essential Info About This Trek- Lombok highlights: Mount Rinjani trekking

What is the best route for this trek?
There are two ways you can start the trek. I highly recommend going from Sembulan. It's much harder to do the track the other way around.
How much does the Rinjani Trek Cost:
The trek cost between 80-100$. If you are on the budget bargain the price if you want more luxury you can hire an agency which makes this trip more private and more comfortable (cost can be up to 500$).
Which tour agency to go with?
All tour agencies are sort of the same. If you are on the budget make sure you bargain the price and get the best deal possible. And if you want more luxury like a toilet tent, go on a private tour.
How many people are in the group?
Around 8-10. Private companies guarantee even smaller groups.
How is the sleeping situation?
You sleep in a tent. The porters always prepare the tent for you so you don't have to worry about that and everyone gets a sleeping bag since it's getting cold at night.
What happens with our bag or luggage?
You can keep your backpack or luggage at the guesthouse's locker room. It's safe. Do this trek with a small backpack only. Less you carry, easier it is.
What happens after the trek is over?
You can stay one more night at the guesthouse (the accommodation isn't free anymore) or the company will arrange a car to take you directly to your next destination ( meaning, they take you to the ferry which goes the Gili's or Bali or to the bus station to get to your next stop in Lombok)
Who can attend this trek?
They allow anyone to climb this trek but to be honest, it's good you have a moderate fitness level. The guide will always go with the slowest person to make sure everyone can get on top safely.
Be ok, to not to reach the summit. Listen to your body and if you rather get a good night's sleep and more energy, it's absolutely fine. This trek should be about enjoying the scenery than over-pushing your body. But I won't lie it feel good when you can get on top.
What do the porters carry?
The porters carry all cooking material, tents, water, sleeping bags, etc, which adds up to almost 60kg. Most of them do this trek 2x a week, barefoot or only in flip-flops. They take care of your 3 meals a day and your tents as well as water.
How is the food?
I must say, the food on this trek was really tasty. Many options from fried rice, noodles, curry, veggies, rice crackers, banana pancakes, fruit. Feel free to take with you some biscuits as snacks.
Do you tip the porters at the end of the trek?
All porters and guides are doing an amazing job for you to enjoy this trek. They carry most of the things for you so you can climb with almost nothing in your bag. So please be generous and tip them well at the end of your trek! ( Tip what you can but I would suggest around 50 000-100 000 Rph or more)
What happens with the garbage?
The only sad thing about this trek is that it's really dirty. Unfortunately, garbage is an issue in the whole of Indonesia and is everywhere on this trek. Please don't add to it!!
Create your personal garbage bag and carry it with you until you get down to the village. You can even pick some trash on the way and clean this beautiful land :-).
Essentials you need for this trek: Lombok highlights: Mount Rinjani trekking
Take a minimum.. whatever you put into your bag, all that you have to carry for 3 days. The best is to layer yourself up. Wear old clothes.. you will get very dirty, so avoid wearing white clothes.
List what you need:
top with no sleeves
t-shirt
T-shirt with long sleeves
fleece jacket or warm lightweight jacket
shorts
trekking pants or long leggings
scarf and gloves (it's really freezing on top)
socks & underwear
hat to protect from the sun and to stay warm on top
sunglasses
swimwear
toothbrush and toothpaste and small soap
toilet paper
Flashlight (best is to use the one you can put around your forehead)
Sunscreen
Mosquito repellent
First aid – at least ibuprofen and muscle or pain relief cream/ tiger balm, diarrhea pills and band-aches
Camera gear (If you have a couple of cameras, my recommendation is to carry the smallest)
Trekking sticks (optional)
garbage/ plastic bag for your own litter
cash for tipping the porters and guide
Don't forget to charge your cameras or phones the night before the trek starts.
Most importantly have fun.