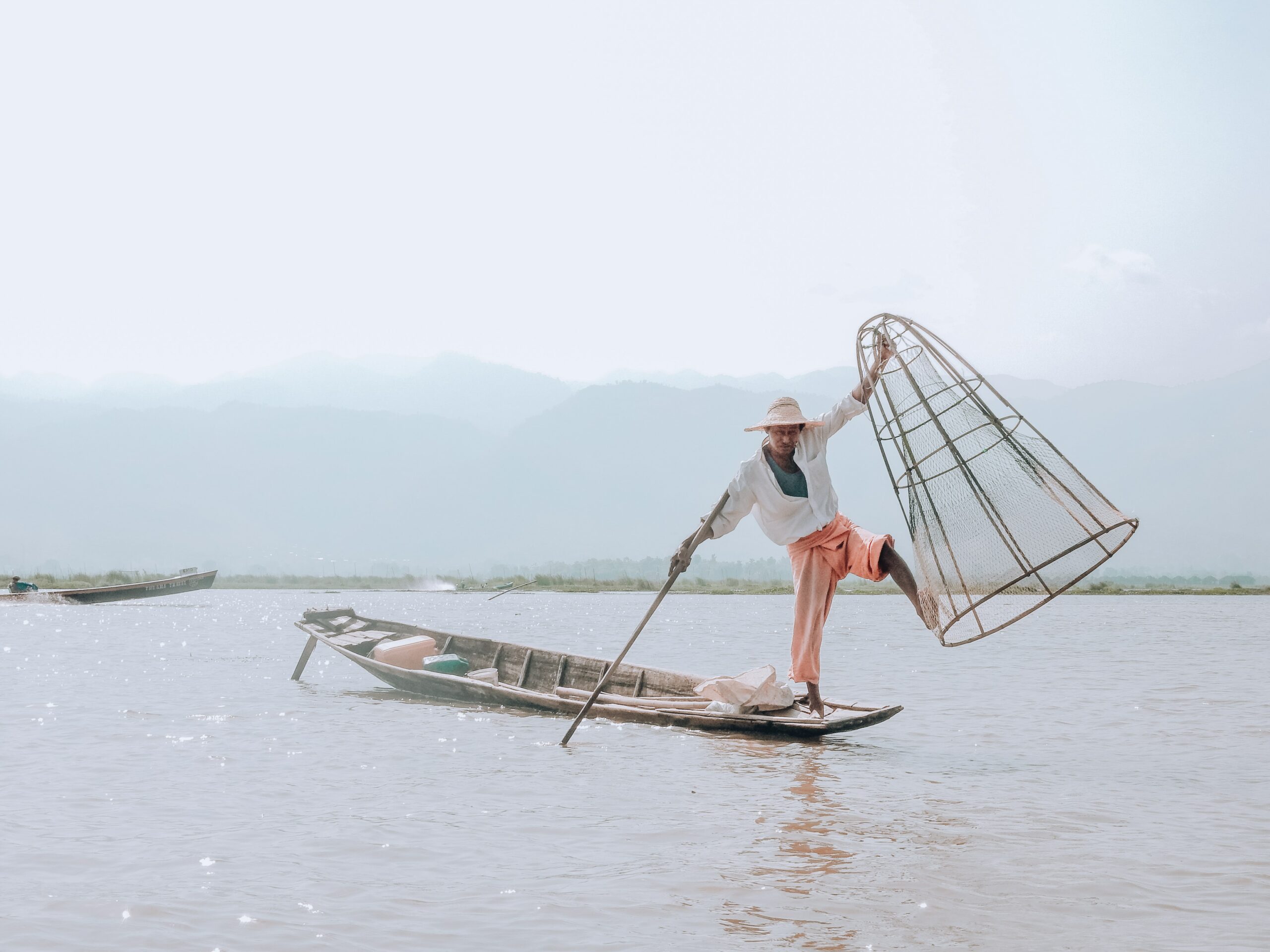 A Quick Guide To Inle Lake
Imagine a vast tranquil lake surrounded by hills where on a sunny day they cast the perfect reflection across the water. A place where life happens directly on a lake, cruising on a tiny narrowboat, discovering traditional stilt-houses, floating markets, and pagodas sticking up over the water while witnessing unique one-legged fishermen performing an Intha technique of catching fresh fish. It is a place like no other on this planet, picturesque, tranquil, and simply a highlight of the Myanmar trip. A quick guide to Inle Lake will inform you what to see and do in the Inle Lake region, how to get there and where to stay in Nyaung Shwe town.
It is a place like no other on this planet, picturesque, tranquil, and simply a highlight of the Myanmar trip.
A Quick Guide To Inle Lake: What To See Around Inle Lake From A Boat
After arranging your boat tour (more about that later), you will be taken to several places around the lake. First, the most interesting thing to see is the local fishermen.
1. Intha Fisherman:
Seeing a one-legged fisherman is a highlight of this trip. Their unique technique of catching fish is so interesting to watch and exciting to capture with your camera. Unfortunately, these days, some of the fishermen (not all) aren't fishing anymore, just showcasing the old Intha tradition for tips.  So, in the event, you'd like to snap one (or two) pictures of them, be sure to have some spare change ready or, alternatively make sure your boatmen are skipping the visits to the fake ones and only visiting the authentic fishermen.
2. Stilt houses and life on the Inle Lake:
Cruising around the Inle Lake, you'll go through many small canals and see villages with stilt houses where all of the locals live. You will sail around many locals that transport their veggies from the floating gardens on the lake and observe the daily life in this magnificent corner of the world, which is truly unique.
3. Umbrella Factory:
A quick guide to the Inle Lake's next stop is an Umbrella factory where you can witness the ancient process of wood-working to create this truly iconic wonder of Myanmar – the umbrellas! These umbrellas are used to protect the locals from the sun, more so than the rain, like we are accustomed to. If interested, these umbrellas are for sale in the local store.
4. Long Neck tribe:
Visiting the umbrella factory, you get to witness the Long Neck tribe women. These elderly women are typically weaving scarves. On some level, I felt sad to see some of them, especially the young girls, who just sit there, rather bored and just posing for the cameras. I can imagine some tourists might even treat them only as an attraction. But, if you open up to them, take the time to chat with them, they are indeed welcoming, interesting, and fascinating!

5. Lotus fiber weaving at Paw Khon:
As soon as you step into the weaving factory, they welcome you with tea and give you a tour around the place, explaining how to remove the thread of the lotus plant and how to use it for weaving. You can actually try to touch the thickness of the lotus thread, which is incredibly solid. The tour continues to another room where women work with their wooden, weaving machines to create intricate patterns on their weavings, which are again available for purchase at the local store.
6. Silver Factory:
This factory is more of a shop but for all of you, silver fans you can find some very interesting and unique pieces.
7. The Phaung Daw Oo Pagoda:
Next up is the Phaung Daw Oo Pagoda a known Buddhist site on Inle Lake. It's important to take some clothes to cover your knees and shoulders as to not disrespect the local customs while entering this holy place.
To find some shade and take a break from the sun, there is a cute, little stop for lunch at a local stilt-house restaurant.
8. Cigarette- making factory:
Surprisingly, one of the key cottage industries in Inle Lake is the making of cigarettes. When visiting this factory they explain all about the tobacco process and how to make the "quite organic" cigarettes.  You can sample some, but be aware, they are very strong! If you decide you like it, there is an option to buy some later.
Special Highlight: Phaung Daw Oo Paya Festival
Once a year, there is a big celebration on an Inle Lake, from the famous Ph Aung Daw Oo Paya Pagoda.
The locals line their boats in early morning hours in Nyaung Shwe town harbor so they can see the four Buddha images, which are paraded around all villages of the Inle Lake as well as the parade of many longboats festively decorated with colorful umbrellas and radiant decorations. There are much leg-rowers rowing in unison (there are around 50-60 leg-rowers on a single boat).  It is fascinating to watch them because it requires quite a lot of coordination. There is music, dancing, and even martial arts from each boat.  Since we had no idea about this special Inle Lake ritual before arriving in Myanmar, it was a very pleasant surprise!
The dates of this festival vary, so check the upcoming calendar here.
What you can see and do around Inle Lake besides boat trip:
Visit winery:
In one of the hills around Inle Lake, you can visit a winery and taste the local wine selection. Before going, I didn't expect much from the winery in South East Asia, but I was pleasantly surprised that this wine tasted quite delicious.
This place also overlooks the town and Inle Lake so it's definitely a nice spot to visit.
Cycle around:
Most guesthouses and hotels are rent out bikes on Inle Lake.  So you can go on a short bike tour yourself and cycle around the lake. The local boatsmen can take you, for a small fee, to the other side of the lake or even back to the town if needed.
Visit a local amusement park:
There is an amusement park in Inle Lake. Can you believe it? When we heard about it, we had to go see it. Old, but still very functional comprised of "roundabouts and carrousels".
It was just a place full of local kids, me, and my travel buddy. Since we were there, I decided to throw a ball where I could actually aim straight and win a warm beer with a fluffy toy, which I lovingly gave away to one of the lucky local kids.
Sit at the harbor and watch life happen:
Checking out the local amusement park and walking through a market, we ended up sitting at the harbor and watching the sunset with life happening in this corner of the world. The boats come in and out, people start coming to the river to have showers when the sun goes down.
Visit a local roller skating park
One of the most fun moments was watching uncoordinated but super enthusiastic locals trying to roller skate. I don't know how, but they have a roller-skating park here in Inle Lake. We stopped on our way to our guesthouse and could NOT stop laughing. We have to spend an evening sitting around and watching and it is something I will never forget (laughing again).
From what I could see, the locals love to skate, and maybe by now they have mastered their skills but it's definitely a fun thing to do around here… observe or to try.. They offer rental skates so jump in if you dare!
Have a mojito made out of Mandalay rum:
This quick guide to Inle Lake takes you to one of the local bars, Eden Bar and Snacks in Nyaung Shwe, where they serve delicious mojitos made from Mandalay Rum (yup Myanmar produce rum as well) and after all day cruising around an Inle Lake, you can sip on these when playing cards with your fellow travelers.
Just watch out how many you get… the morning headache is a killer!
How to get to Inle Lake with a quick guide to Inle Lake:
The best way to get to Inle Lake is to take a 2 or 3-day trek from Kalaw to Inle Lake.
The path to Inle Lake goes through beautiful yet hilly countryside, passing through several villages and local schools which gives you the opportunity to have an overnight stay at a remote village and experience the life that our ancestors knew – no electricity, no cellphones, sleeping on the floor, waking up and going to bed with just sunlight, and cooking on an open fire. It's quite fascinating to know that people still live this way.
The trek itself is easy, so anyone can do it. And I recommend you to go now before it gets touristy!!

When to go:
There is a rainy season from June – September, with the wettest month being August. When it rains it pours there so I wouldn't recommend traveling to Inle Lake around this time.
But if you plan to visit around October or November, there is a huge Phaung Daw Oo Paya Festival that happens once a year on Inle Lake. The dates change each year, so plan accordingly so you can see this very special celebration.
Is Myanmar safe to visit:
Yes, it is!! The people of Myanmar are lovely and they are the main reason I absolutely fell in love with this country.
The military government is behind the cruelty and the human rights crisis this country is going through right now and not the local people.
I have never felt unsaved! In my opinion, for the local people to continue living their normal lives they do need the financial support from the tourism therefore if you are planning to visit this still untouched South East Asian country, I do recommend you go visit now!